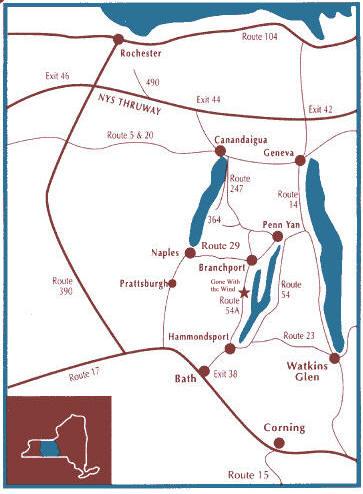 Hammondsport: 15 minutes
Penn Yan: 15 minutes
Corning: 45 minutes
Watkins Glen: 45 minutes
Directions from Buffalo/Rochester
Take NY State Thruway (Interstate 90) East to Albany, take exit 44 (Canandaigua) Route 332 to Route 5 and 20.  Turn left onto Route 5 and 20.  Go approximately 3 miles to Route 247 turn right.  Go on Route 247 to Route 364.  Continue through the little town of Potter.  Approximately 5 miles after Potter, you'll see County Route 29, and also a sign giving mileage to Branchport (7 miles), turn right to Branchport.  Continue 4 1/2 miles south of Branchport and watch for Gone with the Wind sign on the right hand side, turn up the driveway. You are now at Gone with the Wind Bed and Breakfast.
Directions from Corning and Points South
Take I 86 (State Route 17) to Exit 38 (Bath/Hammondsport) Rt.54.  Continue on Rt. 54 through Bath, go seven miles to Hammondsport.  Turn left at the light on 54A, through the village of Hammondsport, continue North on Rt 54A approximately 10 miles to Gone with the Wind Bed and Breakfast.
We are located between Boyd Hill Rd. to the South and Parker Hill Rd. to the North on Rt. 54A<